PLS Learning Center

The Learning Center was developed to respond the technology and protocol in an ever-changing workforce. It is designed to help individuals, organizations and companies increase leverage in existing skills.
Competent and highly skilled workers are the backbone of the global economy. It is imperative that today's workforce reflect the ability to perform these tasks. The global economy and market place is changing drastically due to high-technology innovations. There is no better place to keep up with the demands of the global economy than PLS. Our staff has remained attentive to the swift moving IT world.
PLS' training modules have changed with the needs of the technology-savvy global economy. The Learning Center portal will soon launch to accommodate all learners. We will offer self-paced webinars, podcasts, video blogs and webcasts. Our instructors will showcase helpful tips and hints for studying for the Microsoft Office and technology certification exams.
If you prefer to learn at your own pace, in a location that is convenient for you,
explore our self-paced training options.
Online Training Advantage:

1. Less traveling obstacles.
2. Less time away from office and family.
3. Impact your current job role.
4. Increase your effectivenes in job role.
5. Learn new skills set in advance.
Online Webinars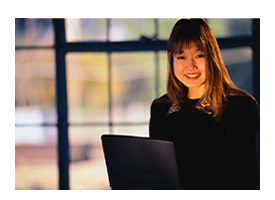 Featured Webinars - Office 2007 and 2010
These online webinar(s) will be covering features of the Microsoft Office 2007 and 2010 family and reviewing the new user interface known as the "Ribbon".
We will also give webinars on tips and hints to passing Microsoft Office Certification Exams.
Register Today